In the SC audio visual business, there are good clients and great clients. We have all the great clients. Over the years, they have said that our can-do attitude, our never say-die commitment to completely flawless presentations, our willingness to build custom staging and lighting, and the pleasantness with which we work have created those great clients. we steadfastly believe they were all great before they found us. After all, they found us, choose us, and worked with us to get meetings, conferences, and events perfect. We are every bit as much of our clients' teams as they are part of ours. We have to work like portions of an engine; perfectly honed and well-oiled together.
Every now and then a client – sometimes new, sometimes after having worked with us for years – finds themselves in a SC audio visual bind. If it happens we will move major scheduling obstacles to service every client. This principle does not have to do with our not wanting to turn business away. Rather, we feel it is the best form if customer service. You are never alone in any SC audio visual situation. Not at the last minute. And not if your presentation suddenly swells to an attendance of thousands and moves outdoors into a driving rain. We will be there.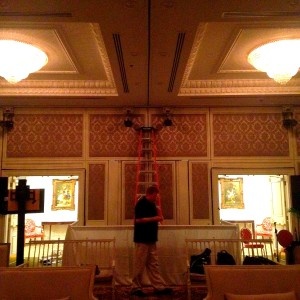 From a recent client:
I called with short notice in need of a rental – spoke with Natalie and she was knowledgeable, courteous and handled my request quickly. The delivery was on time and the gentleman delivering was professional and did the set up quickly and accurately. The pick up the next day was exactly the same, handled perfectly. All three of the people I dealt with from this company were great. I will definitely be using them again for all AV rentals. Thanks! ~Dawna
It makes all the difference in SC audio visual that our clients can call, get friendly experienced help with their equipment and timing. It is great to have creative AV help, but in the end, this business is not about creativity. It is about our business understanding your business and reacting professionally when it matters. Sure, we can build you a chandelier made of twigs and twinkling gold faux-antlers. But all the craft-building lighting and AV ability in the world is not going to matter unless those providing it are timely and reliable. In SC audio visual there is no more reliable of affordable Charleston AV company than AV Connections. We let our testimonials speak for the quality of our work.